Why is an E-cargobike good for my organisation?
Faster deliveries: Bikes can manouvre around the streets easier than cars during peak hours and can take shorter routes than a car/van
Bike riders do not have to worry about looking for a parking spot which can be incredibly difficult in busy cities
Riders don't need a driver's license (younger people are less likely to have a driver's license these days)
Riders will be healthier and happier = more productive
Better for the environment than a van/car and shows the business values the environment
The project is open to businesses and nonprofit organisations with a premises in the Dublin City Council area. Even if you do not meet this criteria, please feel free to complete the sign up form below so that we can contact you with details for alternative ways of trying an e-cargobike.
For businesses, there is a monthly charge of €100 to trial an electric cargo bike for up to 12 months. You will have exclusive use of an e-cargobike branded with your company's logo.
For nonprofits, the e-cargobike will be free of charge for up to 12 months, with Dublin City Council subsidising 100% of the cost.
You will have the option of getting your own bespoke branded decal on the bike, free of charge.
Businesses & nonprofits will be selected for participation in the project based on an assessment of their eligibility and closest fit with the objectives.  Selection will not be on the basis of first come, first served.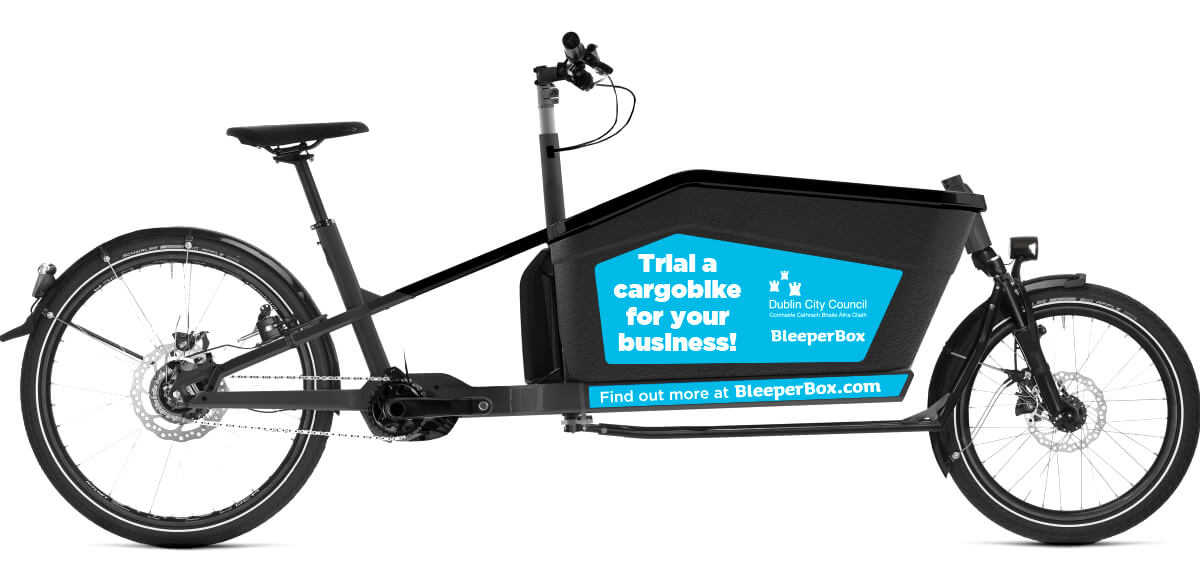 Introduce more businesses & organisations in the Dublin City Council area to an alternative mode for mobility and last-mile deliveries that is both good for the environment and their health and wellbeing
Demonstrate and promote the shift from using cars and vans as default modes to more climate-friendly forms of transport, such as an e-cargobike, that reduce greenhouse gas emissions, are more energy efficient and which lead to other benefits, like reduced air pollution
Enable research and provide data on the use and future potential of e-cargobikes for logistics and deliveries in terms of the environmental and economic impact
Provide a low-risk and low-cost means for people to try out e-cargobikes, over a trial period, without having to commit to the purchase of an e-cargobike
To better understand the challenges and opportunities for businesses in using alternatives to cars and vans for logistics and making deliveries
To align with the objectives of Dublin City Council's Climate Action Plan and the Dublin City Development Plan
To normalise cargobikes as an everyday mode of transport in Dublin, both for businesses and individuals.
If you have any further questions about this Pilot please phone (01) 437 0930
Use left/right arrows to navigate the slideshow or swipe left/right if using a mobile device