Cycle to Work Scheme
1. Add the e-bike or e-cargobike and any optional extras and accessories you wish to order to your cart

2. E-bikes and e-cargobikes are covered by the Cycle to Work Scheme up to the value of €1,500 (e-bikes) or €3,000 (e-cargobikes). If you select a bike worth more than the allowance, the balance must be paid during cart check out;

3. Once you have completed our check-out steps we will email you an invoice for the balance to be paid by your employer;

4. Once your employer pays that balance, we will send you a confirmation email and our customer care team will arrange a delivery time with you for collecting your bike from our city centre workshop. 
Shipping Policy
All of Bleeper's e-bikes and e-cargobikes can be collected (assembled & ready to ride) from our Dublin City Centre workshop. We offer free delivery within Dublin and we also provide nationwide delivery via a courier service. The cost of nationwide delivery varies depending on the size of the product, so please contact us for more information.
Refund Policy
If you change your mind you can return a product to us, but you must notify us within 7 days of your purchase. We cannot accept returned goods if they have been used or damaged. Please see our Terms of Purchase for more information about our Returns Policy.
Warranty
All of Bleeper's new e-bikes and e-cargobikes come with a 12-month warranty as standard, along with the manufacturers' warranties. Please see our Terms of Purchase for more information about our warranty.
Gamechanger
The Yuba Spicy Curry is the ultimate urban workhorse and a genuine alternative to using a car for short everyday journeys. You can carry up to three children on the back, and the rack can be adapted different types of cargo. The Spicy Curry could be your next car. 
Carry Big Loads with Stability & Confidence
The Spicy Curry feels and rides just like a regular ebike. The smaller rear wheel helps to lower the bike's centre of gravity, improving control and stability. The powerful Bosch mid-drive motor ensures that it'll never feel like a drag, no matter what you're carrying on the back.
High End Components
The Yuba Spicy Curry features an excellent range of components to ensure a comfortable and safe riding experience. This includes:
Bosch Cargo Line, 85Nm Torque, 250W Mid-Drive Motor

Bosch PowerPack 500 36V, 13.4Ahr 

500Wh Battery

Magura MT32 

Hydraulic Disc Brakes

Integrated Front And Rear Lights, Powered By The Battery

Electric Assist 

Kiox

 LCD Display Control Module
Accessories
Along with the standard components, the Yuba Spicy Curry can be further customised with a wide range of optional extras to adapt to your needs and enhance your user experience. This includes a variety of seats (baby seats and cushions) and hold-ons for rear passengers, and various racks, baskets and bags for carrying cargo.
Warranty
Bleeper offers a standard 12-month warranty protecting you against any defects. This does not affect the manufacturer's warranty. 


| | Part Specification |
| --- | --- |
| Motor | |
| Battery | |
| Range | |
| Max speed | |
| Gears | |
| Brakes | |
| Lock | |
| Weight | |
| Lights | |
| Tires | |
| Max weight | |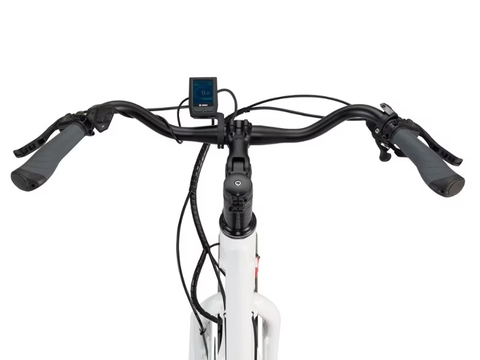 Steady Stay Technology Enhances Ride Quality
Our unique frame design allows for a comfortable ride while making sure the bike is stiff enough to corner well under load. The continuous "stays" help ensure a smooth, no-flex riding experience.
Mid-Drive BOSCH Cargo Line Cruise Motor & Battery
The BOSCH brand is known for producing high quality products, and they are no stranger to the world of electric bikes. This bike comes equipped with BOSCH's latest cargo-specific motor, and a battery that can handle up to 60 miles on a single charge. BOSCH's ebike range assistant can calculate the range for your next ride.
Easier to Handle For Riders Under 6' Tall
The frame design of the Spicy Curry is unique, in that the rear wheel is smaller than the front. This lowers the center of gravity and makes it easier to handle while riding with kids, adults or gear.
HAVE ANY OTHER QUESTIONS?
Feel free to leave your questions to us. We will reply you within 24 hours!